The mirror is a must in bathroom design, the accessory that gives character to the context, brightness and a touch of style that can revolutionise the entire concept of everyday life.
Monteleone mirrors: quality for hotels and resorts
For more than 20 years Monteleone has been a trusted reference point for hotels, interior designers and architects, a constantly evolving reality which, by its very philosophy, is driven by the desire to provide functional and elegant responses to changes in the furnishing sector. In particular, our brand is synonymous with design mirrors, craftsmanship quality and Italian taste.
Polluce: the mirror with rounded corners
Polluce is one of the leading products in the bathroom mirror collection in the hotel sector. The mirror by Monteleone features rounded corners and a satin-finish bronze frame, finely designed and manufactured details that lend elegance and style to the bathroom environment, with that vintage feel that never goes out of fashion, but rather consolidates its influence in industry trends year after year.
We devise solutions of material quality and crafted with maniacal attention to every finish, with the sole aim of meeting the high standards of a clientele that includes the most exclusive hotels in the international hospitality industry.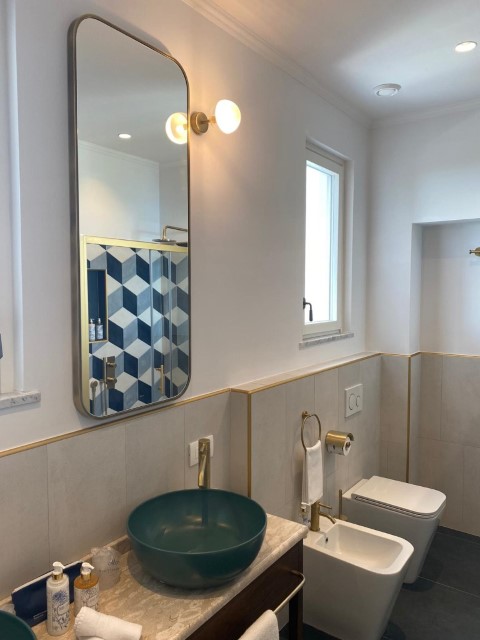 In the Polluce mirror, Monteleone synthesises an approach dedicated to combining the latest technology with contemporary design, constantly striving to improve the bathroom environment with a touch of aesthetic and technical innovation. Polluce captures the interior design trends of the moment, making it an elegant yet contemporary choice.
Unique, yet bespoke style
The mirror with rounded corners comes in different colour choices, designed to blend in perfectly with all types of furnishings, from contemporary to shabby chic, suggesting an idea of luxury that does not dissipate into formal excess, but is diluted in soft lines with a retro appeal. The design can be customised and ordered in a full range of finishes and specifications.
Polluce combines the tensions typical of Made in Italy with the taste for experimentation typical of our brand, in absolute harmony with our entire line of products, which combine high quality materials with unique styles to satisfy every need.
Monteleone's experience offers bathroom solutions in the hôtellerie sector and pushes them in new and creative directions. Find out more on our website monteleone.it/en and on our Instagram, Facebook and Pinterest pages!