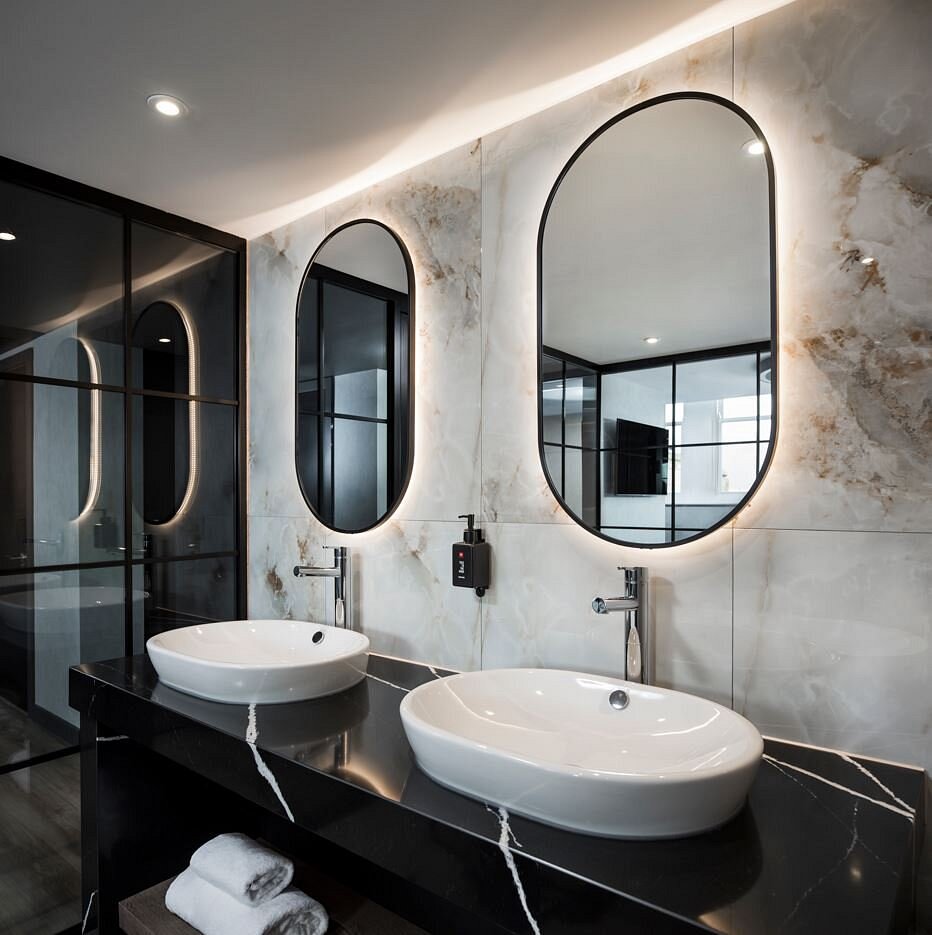 Monteleone has always focused its philosophy on the idea of customising its product line for luxury hotels. With this in mind, we have realised the new customised mirror that we are going to present to you, chosen by the Radisson Red Liverpool to embellish the bathroom furniture of its splendid rooms.
Dimensions, colours and finishes become flexible concepts and take on the appearance desired by the customer, who can create unique design solutions, fully satisfying their expectations of style and function.
The customised By Monteleone mirror has an oval shape, broad in its vertical silhouette sinuously curved at the ends. The matt black aluminium frame offers the most appropriate response to those who seek in the mirror an intriguing and glamorous accessory.
We at Monteleone have always taken care of details: this is why the mirror is equipped with an anti-fog panel and guarantees an IP44 degree of protection, elements that may be inconspicuous to the eye of the less expert, but which are recognisable traits for those who seek quality and functional excellence.
The mirror fits into the panorama of contemporary furnishing projects, presenting a slender profile, perfect for modern contexts and for vintage situations, ideal in urban furnishings and in shabby chic, industrial and classic ones.
But a mirror must first and foremost fulfil its purpose effectively: to give a sharp, bright reflection. With this in mind, our designers have come up with a mirror illuminated by indirect LED light, so as to show an image that is always clear, but never obtrusive: a mirror, in practice, tailored to the user experience.
The Radisson Red Liverpool project
The Custom Made mirror you are admiring was selected by Interior designer Koncept – id London for the Radisson Red Liverpool, a 4-star structure located in the heart of the city, between Lime Street railway station and the Royal Court Theatre. The complex is furnished according to typically British canons and proposes residences with a fascinating profile, characterised by innovative elements that allow themselves to be welcomed in discreet settings of an elegance that is never predictable and seductive.
And in this context our mirrors are welcomed, selected to bring a hint of sober, but incisive Made in Italy within a dimension with an international scope. The mirrors are all signed Spekkio, the logo that marks and identifies Monteleone creations.
Monteleone solutions: literally unique mirrors
For over 30 years, Monteleone has been serving the luxury hospitality sector, working with international hotels and chains around the world.
Our vision has always been centred on the focus of realising customised solutions built to the measure of each client. Aesthetically and functionally, our mirrors take the shape you need, the size you want, the look you want.
Flexibility, technical innovation and design are the three creative fires that fuel our creations, right from the start and even more so today.
Discover our complete catalogue at https://monteleone.it/en/