Monteleone means tailor-made solutions. The Spekkio brand gives expression and shape to our passions, which draw sap and origin from the artisan culture. We develop design elements and functional furnishing solutions with a view to comfort and charm for exclusive hotels.
In collaboration with Concreta general contractor and Caberlon Caroppi interior design studio, we present the new addition to the Hilton Molino Stucky in Venice, the bespoke engraved mirror.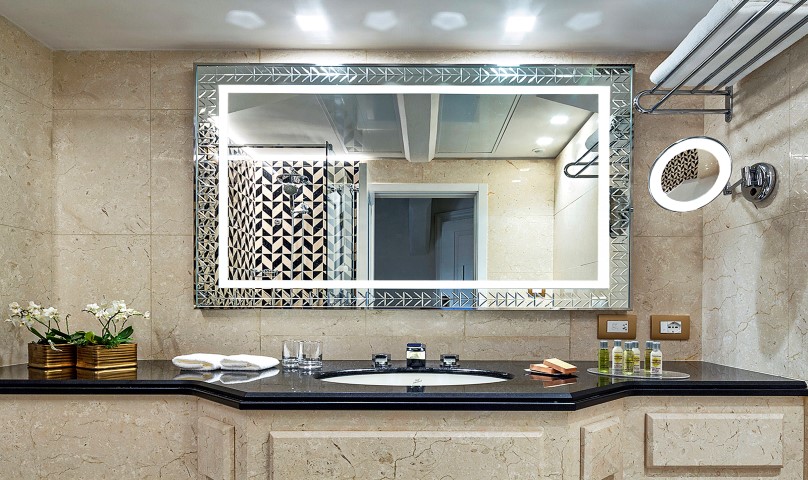 The mirror that we proudly show you, is characterised by a peculiarity that makes it unique and emblematic of Monteleone's solutions: an engraving on glass finely made by our craftsmen in order to draw a decorative frame. A tasteful solution, conceived and realised to give the idea of an integrated, unique, compact and harmonious block.
Here, glass is not a mere aesthetic ornament, but a valuable material that enhances the profile of the mirror and the entire room. The decoration fills the space, adds brightness and style, and stands out on the wall, drawing inspiration from museum exhibitions.
The engraved mirror by Spekkio, a leading brand in Monteleone's production, re-proposes the suggestions and distinctive features of our brand, enhances the minimal formalism of the furnishing concept and makes the room shine, giving a feeling of extension of space.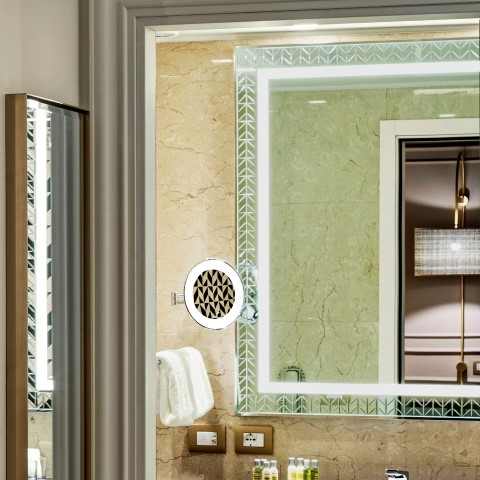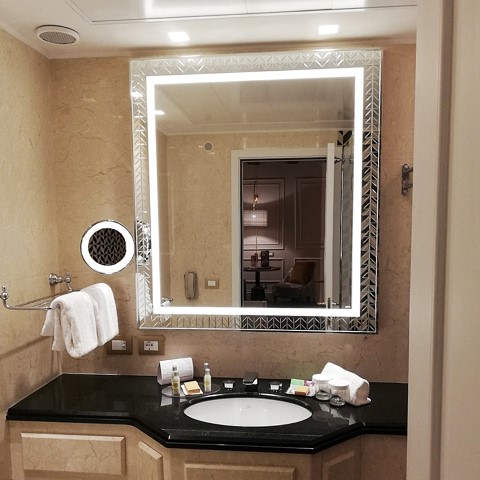 Design by Spekkio: stand out and be recognised
Spekkio is the Monteleone furniture brand dedicated to design productions in the field of mirrors and mirrors. Spekkio's solutions are designed specifically for the market of hotels and exclusive hotels and focuses its aesthetic research and use on two tensions: beauty and function.
The engraved mirror designed for the Hilton Molino Stucky in Venice fully expresses the ideas of our company, which has made of the customisation of its collections a banner of quality and conceptuality Made in Italy.
Monteleone mirrors will embellish with taste and versatility bathrooms, bedrooms, entrances and living rooms. Take a look at our website or our Instagram page to find out more!