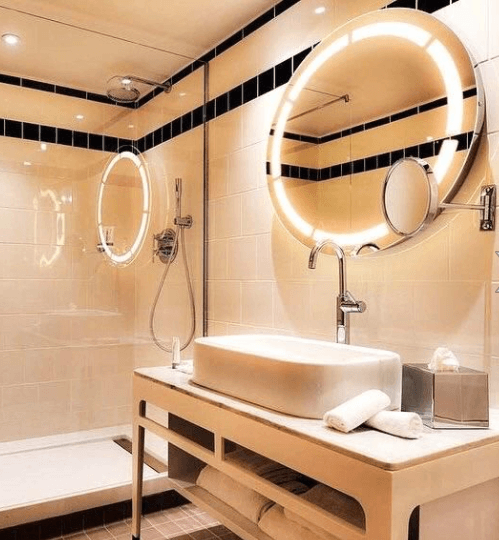 The reflection: a concept, before being an act, that encapsulates the history of the world, mythological narratives, research and self-knowledge. The mirror, by extension, becomes a casket capable of enclosing and expressing a series of symbolisations that make it an almost magical object, certainly fundamental in everyday life, significant. Ideas that may seem insubstantial, complex, but which act as a compass and creative flame for our designers: we at Monteleone, in our vast production of mirrors and mirror units, try to be a constant spokesman, albeit in a veiled way, of the incredible pool of meanings and symbols that the mirror encloses. This too is Monteleone.
We do not create mirrors, but visions
The mirror is undoubtedly a design object that fulfils practical and decorative tasks. Everyday life takes place around the mirror. It is there that the day begins for all of us. It is in front of our reflection that we get to know ourselves and stand outside ourselves. Our team, our family, knows this very well. That is why we design and manufacture mirrors and mirrors that go beyond the mere meeting of ornamental intent and practical application. Our creations embrace a vision based on the idea that the mirror is the soul of the bathroom environment, the king who attracts the eye and refracts light and shadow. The mirror is what we are, it tells the stylistic and technical path of our brand, it is our vocabulary, our language and our alphabet: our mirrors are us.
From concept to form
But we are not naive and we do not abandon our pragmatic nature: Monteleone's mirrors and mirror solutions go beyond the mere visual experience, although extraordinary, and are designed to make every gesture made in front of the mirror practical, efficient and very comfortable. Our designs feature innovative technologies, patented within our creative space, such as the magnifying mirrors that can be adjusted by means of an arm outside the reflective surface, which seem to dance within the main structure. It is not a quirk, not an ornamental whim, but an idea that goes in the direction of comfort of use, functional to the needs of women, men and the little ones.
Monteleone: a reference point for the hotel industry
Our company was born within the Hôtellerie market segment and for over 30 years has been a point of reference for first-class hotel chains. Monteleone mirrors and mirrors characterise the bathroom environments in luxury hotels all over the world, exporting our way of thinking about furnishing and lifestyle concepts: traditionally innovative, true to ourselves, perfectionist to the extreme.
Don't believe us? Discover our catalogue of mirrors and cosmetic mirrors!