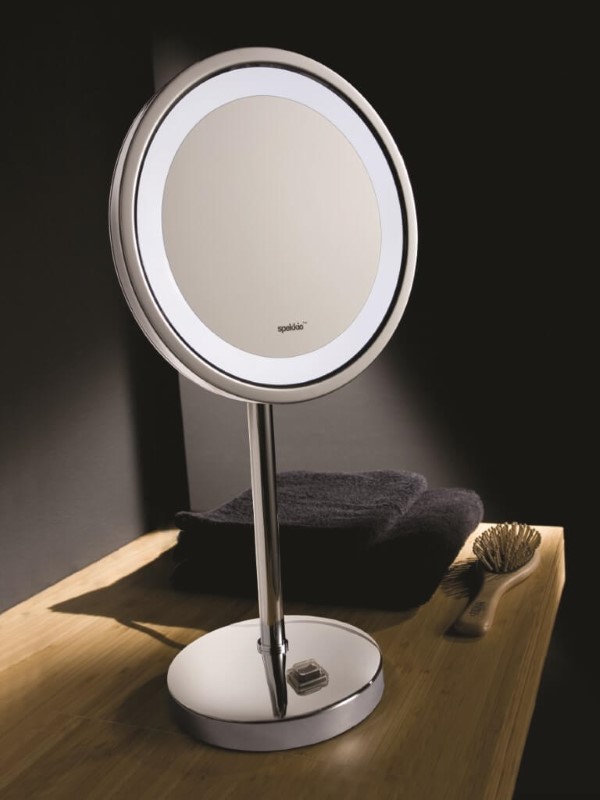 Monteleone's magnifying mirrors are the embodiment of our creative thinking. Through these infinitely expressive and symbolic objects, we make our vision of bathroom mirrors visible and tangible, conceiving new designs and revolutionary technologies. Variety, but consistency, constant search for innovation, but also formal experimentation. In a single word: Monteleone.
The mirror is an ancestral, mythological object. Myths, legends and philosophies revolve around the idea of reflection. The mirror is the element that connects us with ourselves, woven into our daily lives, indispensable, though silent. We at Monteleone design mirrors that can tell all this, but without lapsing into intellectualism: with simplicity, an extremely complex value.
Our creations, signed Spekkio and accepted in top hotels and hotel chains around the world, are organised in unique and characteristic product lines… and now we want to tell you about them one by one.
Circular LED Design Mirrors
The archetypal suggestions of the circle unleash their artistic potential in 6 captivating product lines: AQUARI, PULSAR, PERSEO, DELTA, SIGMA e OMEGA. Cosmetic mirrors of timeless elegance, finely modern and with a familiar charm. Like a circle that returns to itself, Circular LED Design mirrors are a meeting point between the past and the future.
Linear LED Design mirrors
Shape is just a pretext, every idea can assume infinite figures. The YOTA, SCORPIUS e CORONA productions are a tribute to clean, square lines: magnifying mirrors with a rectangular design, but with a rounded surface that restores movement to the eye. With Linear LED Design mirrors, we translate the creative instances of our past into a contemporary language.

Fanciful Design mirrors
How can classic fascinations and a taste for unconventionality coexist in harmony? To find out, take a look at our Fanciful Design mirrors, the ETA, LAMBDA, TUCANE e EPSILON lines. The perimeter of the mirror dissolves into balanced, symmetrical, canonical shapes. Yet the visual suggestion is that of a concept that breaks the mould, modelling circular or linear surfaces.
Monteleone, through Spekkio – a brand created specifically for the art design segment for the Hôtellerie sector – has always offered a design proposal that rewrites the typical schemes of the bathroom context and develops solutions in constant evolution, thanks to incessant research and development. Monteleone's projects often feature in-house patented technologies and are enthusiastically welcomed by hoteliers all over the world, as well as private individuals, who are increasingly in our thoughts.
Visit the cosmetic mirrors section of our online shop.
Monteleone projects are customisable!