Monteleone is a brand specialised in the design and realisation of design solutions for hotels and first-class hotels, both nationally and internationally. The leading products of our collections are cosmetic mirrors, solutions suitable for every need and functionality: an exclusive series of bathroom furniture based on all-Italian design and quality.
The brand Spekkio and Kosmetico are the synthesis and the tangible expression of our ideas: we design and sign mirrors and cosmetic mirrors of Made in Italy craftsmanship, conceived for the Hôtellerie sector.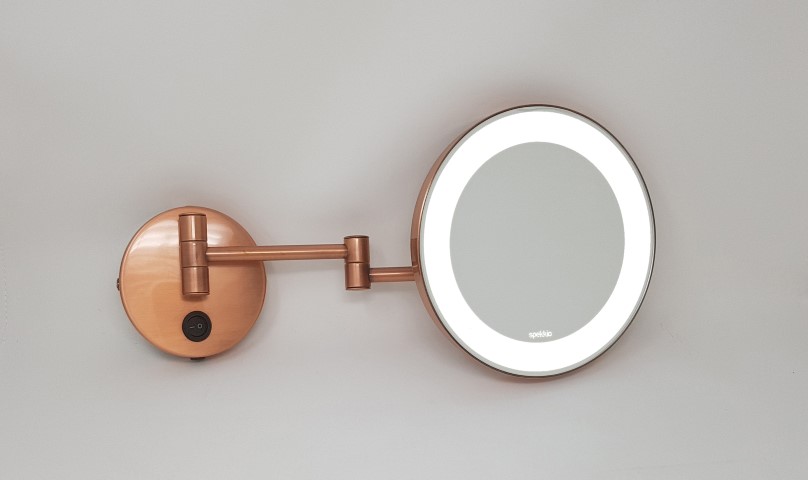 We provide a great variety of design, shape and colour options – as well as bespoke products.
The cosmetic mirrors collection is further being enhanced through the addition of more finishes to offer an even greater variety: black, bronze, chrome, copper and gold.
The mirrors signed Spekkio, the griffe that characterizes Monteleone's solutions, are selectable in a wide range of finishes, with the most varied colours and materials, strictly of first quality material, to last long and not to impact on the environment. In fact, Monteleone distinguishes an ethical choice that goes in the direction of respectful and eco-compatible consumption.
The frames of our cosmetic mirrors are available in bronze, chrome, gold, black and copper plating: there is a choice to suit every context and our designers are available to help you find it.
The functionality of our catalogue is also varied and attractive. Our cosmetic mirrors are equipped with our own patented lighting and operating systems, intuitions that come from a vision that places ergonomics and practicality at the heart of the studio. This is how our lighted cosmetic mirrors, our mirrors equipped with an internal adjustment system, our wall-mounted or free-standing accessories were born.
Space is a need, but also a source of inspiration for each of our products: our intention is to maximise and respect it. By Monteleone cosmetic mirrors will always put you in the right light: thanks to LED lighting and magnification, shaving or applying make-up becomes an inspiring, pleasant, comfortable experience. We pride ourselves on giving every room a touch of design and comfort: for more details and to see our collections, visit monteleone.it/en/cosmetic-mirror